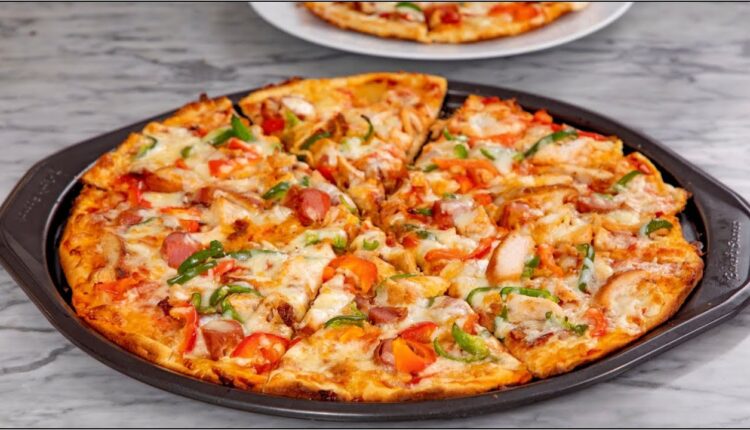 Welcome to our blog, In todays topic, we will be talking about how to prepare pizza. We will give you all the steps you need on how to prepare pizza. Kindly Stay With Us.
One of the most popular Italian cuisines is pizza, which is also one of the simplest foods to prepare at home for your loved ones. The creation of the ideal pizza base is the only drawback.
Not everyone succeeds. However, we show you exactly how to build a pizza using the fresh pizza base in this simple recipe. Although you can purchase a pizza foundation from the supermarket or market closest to you, making your own pizza will give it its true flavor. Another aspect of creating pizza is that it must be baked at the proper temperature and under the proper circumstances.
So, if you're ready to bake pizza at home, here's a simple recipe that will show you how to make the ideal pie. To make the simplest pizza at home, all-purpose flour, dried yeast, warm water, onion, tomato, capsicum, several types of cheese, and tomato ketchup are all that are required. This is a personal preference, but we also used mushrooms in this Italian recipe. Additionally, you can top the pizza with any other vegetable you like.
One of the most adaptable cuisines, you can add any of your preferred vegetables in this dish. This delicious treat can be provided at events like game nights, potlucks, and cat parties. It is the most straightforward dish to cook if you are hosting a party at your house. Sprinkle some oregano and red pepper flakes over the pizza before serving, and eat with tomato ketchup.
Ingredients of Pizza
2 cup all purpose flour
100 ml tomato ketchup
1 tomato
2 onion
1 teaspoon chilli flakes
1 teaspoon baking powder
1 teaspoon sugar
100 gm processed cheese
4 mushroom
1/2 capsicum (green pepper)
1 teaspoon oregano
1/2 cup mozzarella
1 tablespoon dry yeast
water as required
How to make Pizza
Step 1 Prepare the pizza dough
Take dough-kneading dish and fill it with all-purpose flour. Then, after passing the flour through a sieve once, add salt and baking powder. Create a well in the center and fill it with 1 teaspoon of oil. On the other hand, combine 1 teaspoon of sugar and the yeast in a small amount of warm water. Mix thoroughly, then set aside for 10 to 15 minutes. During this time, the yeast will rise. Once the yeast has risen, combine it with the flour and, using a little water, thoroughly knead the dough. Set aside this dough for four to six hours. After that, knead the dough once more. The pizza dough is now prepared.
Step 2 Prepare the pizza base
Set the oven to 180 °C for preheating. When the dough is done, it's time to make the pizza base. Take a substantial portion of the pizza dough and spread a little dry flour around the area. Roll this dough into a beautiful circular foundation using a rolling pin. (Note: Ensure the circumference of the base is even at all ends.) Once the base is prepared, poke it with a fork to prevent it from rising and to ensure that it bakes evenly. Bake it for ten minutes in a preheated oven. Your pizza foundation is now prepared.
Step 3 Chop all the vegetables for the pizza
The capsicum should now be washed and thinly sliced in a bowl. Next, peel the onions and cut them into thin slices to add to another bowl. Finally, cut the mushrooms and tomatoes the same way. However, check to see if the tomatoes are less juicey. Once the vegetables are completely cooked, grate the processed and mozzarella cheeses and place them in different bowls.
Step 4 Spread the sauce and veggies on the base
Next, take the brand-new pizza foundation and cover it with tomato ketchup. After properly distributing the veggies around the base, spread half of the processed cheese over it. After arranging all the vegetables, cover with a thick layer of mozzarella cheese.
Step 5 Bake the pizza at 250 degree Celsius for 10 minutes
Place the baking pan with this pizza base inside the oven. 10 minutes of baking time at 250 degrees Celsius for the pizza. Once finished, remove the baking sheet and cut the pizza. Add oregano and chili flakes to taste, then serve hot. (Note: Ensure that the oven has been preheated for at least 5 minutes at 250 degrees Celsius.)
Thank you for reading our todays article on how to prepare pizza. We hope our todays post on how to prepare pizza was helpful.